The Last Sunday after Pentecost and the Feast of Christ the King – This week's bulletin for Mary Immaculate of Lourdes, Newton: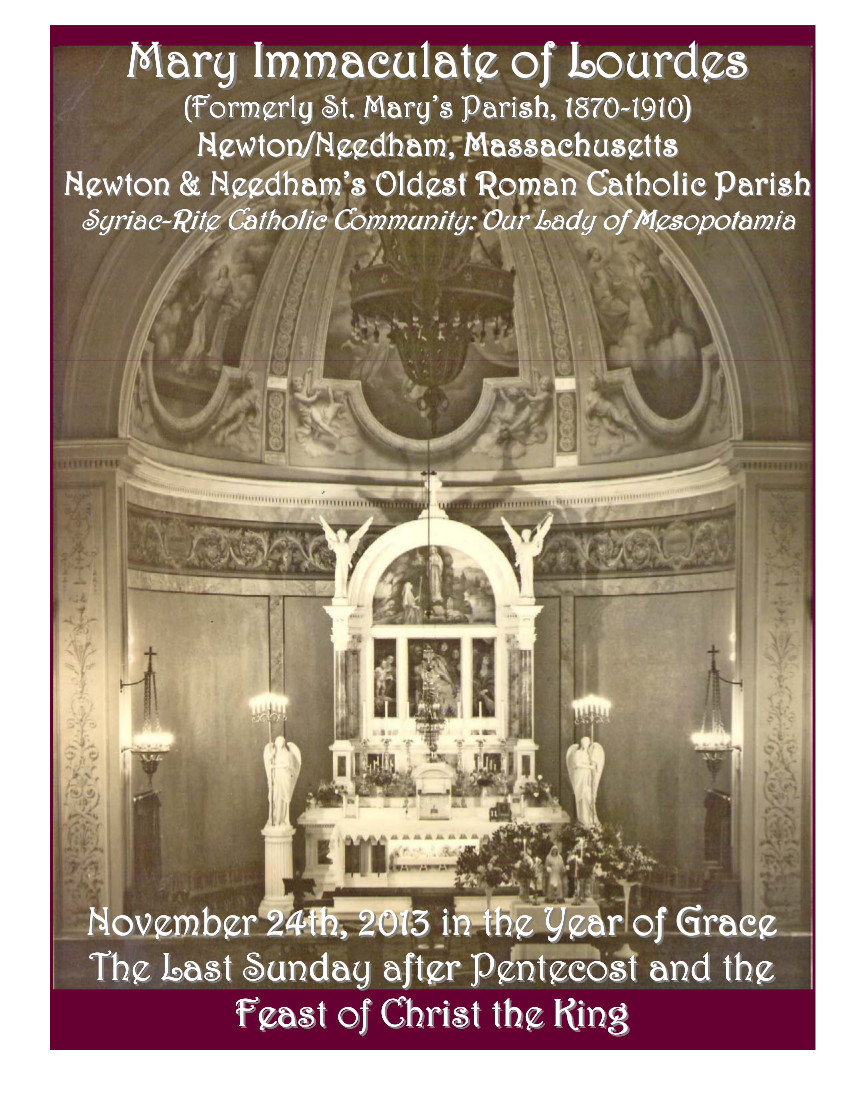 Front cover: The sanctuary of Mary Immaculate of Lourdes Church arranged for May devotions, circa 1950. The look of the sanctuary here is much the same as it was at the church's dedication on November 24th, 1910, Thanksgiving Day, with the decorations and frescoes of the church artist Gonippo Raggi.
Pastor's Note:
CHURCH ANNIVERSARY AND AN ANNUAL REPORT
(Download: Annual Report for 2013)
More Parish Church Photos from 1910; Weekly Scripture Column on Luke 4:31-37; Art History lecture by Gwyneth Holston; Faith Formation class using the Catechism of the Catholic Church and Peter Kreeft's Catholic Christianity; Benedictum Book Club; Parish Fellowship; Parish Religious Education; Music Program; Mass Propers; Calendar of Masses; Health of the Sick; Requiescant in Pace and more.
On Thursday, November 28th, Thanksgiving Day, we will have two Masses in the parish:
7:30 AM: Thanksgiving Day Mass
9:00 AM: (Latin Low Mass)
Mass on the Anniversary of the Dedication of a Church & Thanksgiving Day commemoration.
Our parish church was dedicated on Thanksgiving Day, November 24th, 1910.
Please visit the Mary Immaculate of Lourdes website and
facebook page for more information.
Mary Immaculate bulletins are available at miol.nu.