The Eighteenth Sunday after Pentecost and the Twenty-sixth of the Year – This week's bulletin for Mary Immaculate of Lourdes, Newton: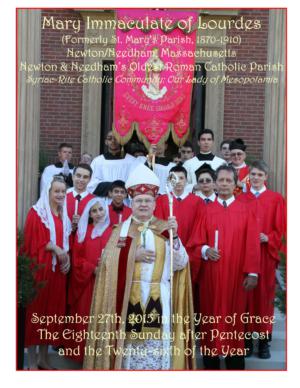 Cover photo: His Excellency Most Reverend Walter Edyvean with the newly confirmed and the Mass servers after last Sunday's Confirmation Mass, September 20th, 2015.
Pastor's Note: Sleep – Rest – Pray; Weekly Scripture Study on Luke 22:66-71; Weekly Bible Study on the Epistles of St. Paul; Parish Fellowship; Nursing Home Masses; Parish Religious Education; Music Program; Mass Propers; Calendar of Masses and more.
Please visit the Mary Immaculate of Lourdes website and
facebook page for more information.
Mary Immaculate bulletins are available at miol.nu.