The Feast of Our Lord Jesus Christ the King/30th Sunday of the Year- This week's bulletin for Mary Immaculate of Lourdes, Newton: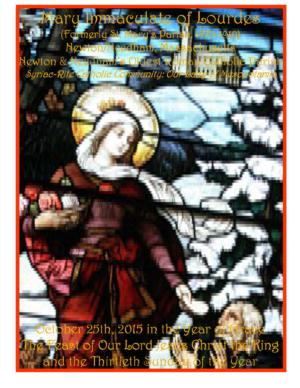 Pastor's Note on the "St. Elizabeth of Hungary Fund" for the Charitable Good Works of Mary Immaculate of Lourdes Parish; Weekly Scripture Study; Food Drive; Parish Fellowship; Music Program; Mass Propers; Calendar of Masses and more.
Please visit the Mary Immaculate of Lourdes website and
facebook page for more information.

"What then is a parish?  It is the smallest section of the one universal flock which has been entrusted to Peter by the Lord.  Under the authority of a responsible priest who has received the care of souls from his bishop, the parish is, within the Church of Jesus Christ, the first community of Christian life; it is a community cut to human dimensions, in which the shepherd can know his flock and the flock can know their shepherd …  At the heart of this area, we find the parish church with its bell-tower, its baptistery, its confessional, its altar and tabernacle, a symbol of unity and the centre of community life."
Mary Immaculate bulletins are available at miol.nu.