I am indebted to parishioner Martha Phillips for discovering a key fact with regard to the renaming of St. Mary's parish to "Mary Immaculate of Lourdes" at the new church's dedication in 1910: it was in fulfillment of a vow Fr. Danahy had made.
His cousin, Elizabeth Cavanagh, said that Fr. Danahy damaged his vision while studying for the priesthood, and that he went to Lourdes where he regained his lost sight. He vowed then to build a church in honor of the Blessed Virgin. He built Mary Immaculate of Lourdes Church in Newton Upper Falls, and served as its pastor for 33 years until his death. He died at the rectory at 76 years of age.
(Source: http://elgalvin.mysite.syr.edu/gen/danahy.html)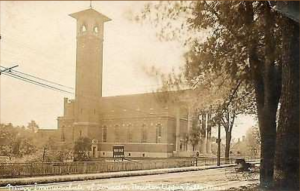 Such a detail makes the re-naming of the parish church especially moving: to consider the element that this whole beautiful edifice of this church is itself a votive offering of thanksgiving by a miraculé, the church's own pastor who received the healing of his sight at Lourdes.
Pastor's Note from the Mary Immaculate of Lourdes Bulletin for November 26, 2017