The Ninth Sunday after Pentecost and the Feast of St. Anne
This week's bulletin for Mary Immaculate of Lourdes, Newton: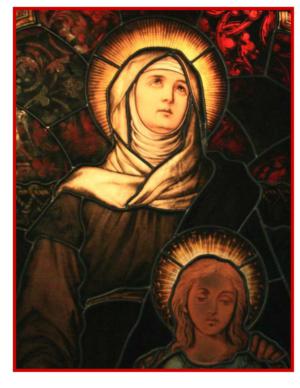 Front Cover: St. Anne with the Blessed Virgin Mary as a little girl. This stained glass window is of the confessional on the Oak Street side of the church. Today, July 26th, is the Feast of St. Anne, Mother of the Blessed Virgin Mary and the Grandmother of Jesus Our Lord. At the 10:30 Latin Mass today, commemoration prayers for the Mass of St. Anne are added to the prayers for the 9th Sunday after Pentecost.
SYRIAC RITE – OUR LADY OF MESOPOTAMIA MISSION: IRAQI CATHOLICS Mary Immaculate of Lourdes is the host parish for the Syriac-rite Mission of Our Lady of Mesopotamia.
Padre Pio Prayer Group; Weekly Scripture Study on St. Luke 22:1-6; Parish Announcements; Parish Fellowship; Weekly Bible Study: Epistles of St. Paul — Galatians & Philemon; Requiescant in Pace; Military Service Prayer List; Health of the sick; Music Program; Mass Propers; Calendar of Masses.
Summer Book Study: When the Church Was Young: Voices of the Early Fathers, by Dr. Marcellino D'Ambrosio
Please visit the Mary Immaculate of Lourdes website and
facebook page for more information.