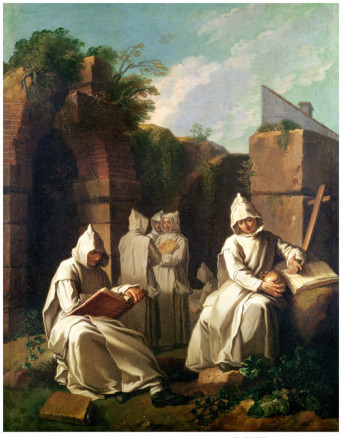 We are very pleased to be able to welcome our Cardinal Archbishop Sean O'Malley to our parish of Mary Immaculate of Lourdes this coming Wednesday, June 4th.  The occasion is the celebration of a Mass of Consecration for a man who wishes to take perpetual vows as a religious hermit for the Archdiocese of Boston.  That man is Brother Benedict Joseph Connelly.
Brother Benedict Joseph (his religious name, in honor of St. Benedict Joseph Labré) has been accepted to take on a special vocation of solitary prayer for the good of the whole Church, while continuing to support himself by working "in the world". One of Brother's jobs is to help with the cleaning and maintenance of our church properties, particularly the church building. In his private life, Brother Benedict Joseph will live a Rule, which has been approved by Cardinal Sean, in the spirit of the Carthusian religious order, founded by St. Bruno in the 12th century A.D., in addition to making promises to live the Evangelical Counsels of Poverty, Chastity, and Obedience for the rest of his life.
It is a great blessing for the Church, and in particular now for our parish, to have people like brother Benedict Joseph dedicated to a hidden life of prayer and sacrifice.  We live in a world so hectic and fast-paced, and so unrealistically demanding of immediate results in things which cannot be achieved outside of patience.  In so many ways we bury the seed and dig it up the next day in exasperation to see if it's growing!
The vocation of contemplative prayer in the Church helps to remind us that the good things of God are not to be had like a commodity.  They are rather to be won by patient prayer, and since very few Christians, relatively speaking, are able to dedicate themselves to prayer in this degree, we rely on the support being given us by the prayers of contemplative men and women.  As the superabundant treasury of merits of the saints in Heaven comes continually to our aid, so the superabundant graces of the prayers of contemplatives are also distributed by the Divine Will to where they are needed most in the Church and the world.
May Brother Benedict Joseph find the peace and joy of Christ as he lives out his vocation.  In turn we pledge him the support of our prayers for his perseverance on his chosen path.
We welcome also this weekend Father Robert Shaldone, SOLT, a priest of the Society of Our Lady of the Most Blessed Trinity, as our new assistant priest here at Mary Immaculate. Although Fr. Shaldone's Community is based in Texas, his origins are close by in Needham, where he grew up.  For the past two years he has been working as a Catholic chaplain at Our Lady of Fatima Hospital in Providence, RI.  I am very grateful to Fr. Shaldone (and to his Religious Superiors for their permission) for coming here to help me with the sacramental and pastoral ministry of our parish.  I know that he will receive from you a warm-hearted welcome.
Pastor's Note from the Mary Immaculate of Lourdes Bulletin for June 1, 2008